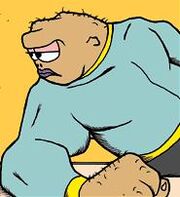 Elizabeth is a Vorwhed mercenary who was recruited into Tagon's Toughs following their mission to Ghanj-Rho. She stands 3 meters tall and masses 820 kilograms.[1]
Book 7: Emperor Pius Dei
Edit
On Mahuitalotu, Elizabeth was attacked by a shark near the end of the Schlocktoberfest 2005 arc. She suffered from an amputated leg, before being rescued by Shodan. [1]
References
Edit
↑ 1.0 1.1 2005-10-23